Padre Pio
Padre Pio is now Saint Padre Pio. Padre Pio was canonized by Pope John Paul II on June 16, 2002. For many years in the past, thousands of people have climbed up the mountain path in San Giovanni Rotondo, Italy, to visit the great Padre Pio, or at least see Padre Pio, the famous stigmatized Capuchin monk. Padre Pio was the first priest in the history of the Catholic Church to bear the holy wounds of Jesus Christ.
Padre Pio was born in the village of Pietrelcina, Italy, on May 25, 1887. Padre Pio's parents gave him the name of Francesco Forgione. There were eight children in total, three of whom died in infancy. Padre Pio's parents were simple hard working farmers. They were so poor, that Padre Pio's father Orazio went to the United States twice, in order to be able to provide for his family and earn enough money to educate Padre Pio for the priesthood.
As a child, Padre Pio avoided the company of other children, and did not take part in their games. Padre Pio had a great horror of sin and cried when he heard anyone blaspheming, or taking God's name in vain. Even when Padre Pio was seven years old, Padre Pio could tell if somebody was in the state of sin. From the time Padre Pio was a child, Padre Pio would often think about the things of God and keep himself recollected.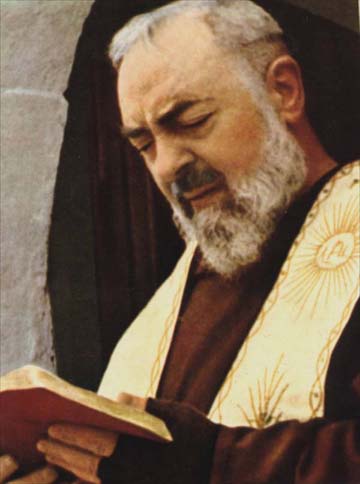 Please help the Padre Pio Foundation in this world of pain and hunger Please donate, all donations are tax deductible. Thank you.